Underpinning at Nellis Air Force Base

A three-story office building at Nellis AFB was renovated and converted to living quarters. One challenge posed in the project was underpinning the existing foundation for the 8-foot depth excavation required for the construction of an elevator shaft adjacent to the foundation. Structural drawings were provided for the underpinning of the foundation, but the contractor was required to construct a shoring plan for the vertically cut subgrade soils.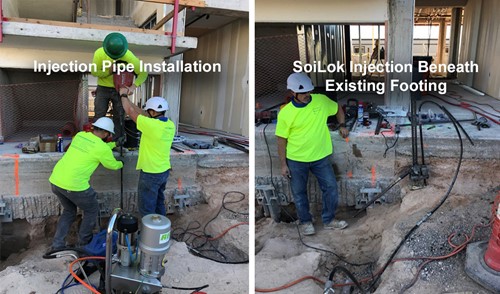 SCOPE OF WORK
Foundation Stabilization was contacted by E-Corp for the task of underpinning the existing foundation and to devise a shoring plan for the 8 ft (H) x 20 ft (L) x 18 ft (W) excavation. The contractor emphasized that in addition to excavation safety, the primary goal was to prevent settlement of the existing foundation and maintain the integrity of the subgrade near the existing foundation and slab. The subgrade soils were a sand with silt grading to a silt with sand. Foundation Stabilization proposed the use of helical piers to underpin the existing foundation and provided an approved shoring plan calling out for chemical grouting around the perimeter of the excavation to a depth of 8 feet before breaking ground.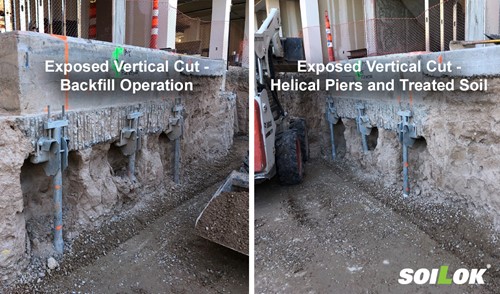 THE SOLUTION
Foundation Stabilization performed the installation of three helical piers to underpin the existing foundation and injected SoiLok 20 to a depth of 9 feet around the perimeter of the proposed excavation for the chemical grouting activity. The effectiveness of the SoiLok chemical grouting was evaluated during the excavation process. Foundation Stabilization observed that SoiLok provided a significant increase to the shear strength of the treated subgrade soil. This strength increase was visibly and mechanically apparent between the grout interface of the treated and untreated subgrade soils. The excavation was open for approximately 6 weeks and no sloughing, tension cracks, or settlement of the existing footing was observed throughout the duration in which the excavation was exposed.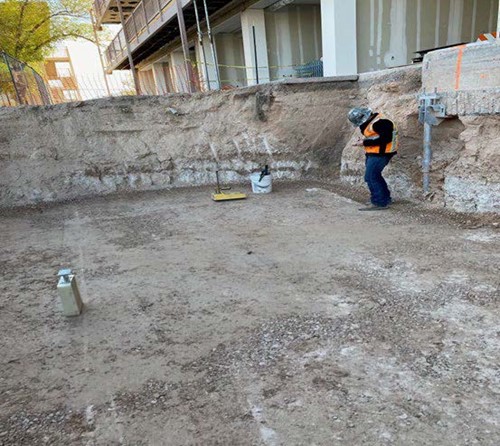 SoiLok was chosen as the optimum product for this project due to its ability to permeate silty soils, longevity, and performance during testing.