Municipal Sewer Grout School - May 2023
When: Wednesday, May 10 - Thursday, May 11, 2023 Where: Aries Industries 550 Elizabeth St Waukesha, WI 53186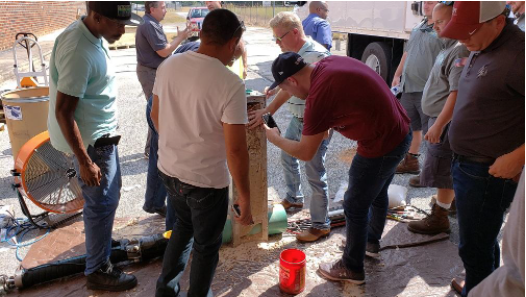 Groundwater infiltration continues to attack the integrity of our sewer systems, responsible for SSO's, overloading our treatment plants and costs to tax payers. When not resolved, the cost to restore can increases exponentially.

Join us at Municipal Sewer Grout School to learn why & how injection grout is used to stop groundwater infiltration into sewer collection systems, stabilize pipe beddings, saving taxpayers money and ultimately, extending the system's useful life.

This two-day session will present technical information on:
· Lateral and mainline test and seal packer operation maintenance
· Mixing and optimizing PR-10 acrylamide grout performance
· Review of new NASSCO/ICGC grout specification requirements
Hands on sessions
· Above ground injection sealing demos for mainlines and laterals

Participants will receive:
· Safe Operating Practices Program (SOPP) certification
· Training documentation and product information
· Personalized Certificate of Completion
· Breakfast and lunch both days, and first evening networking event

Reserve your spot today!
Registration for this event is limited and on a first-come, first-served basis. Register by April 21st and save $$!

WHEN
May 10-11, 2023

WHERE
Aries Industries
550 El;izabeth Street
Waukesha, WI 53186

WHO SHOULD ATTEND
· CCTV grout truck technicians
Public Works Authorities
· Collection System Managers/ Inspectors
· City/Consulting Engineers
· Municipal Contractors
COST
$610 for one registrant
$510 for each additional registrant
*All fees are US dollars.
Register before April 21st to receive the Early Bird discounted rates of $585 for one registrant and $485 for each additional.